This year I went with an unusual palette for Christmas.
My wrapping and decor is lime green, turquoise, red, pink, white, and silver. I have to say I LOVE IT!
In doing this, I realized people sometimes feel if there isn't exact traditional coloring it isn't as valid or workable, but really, decor for the season is about what makes you feel good! The one thing that IS tradition for us is to use our MANY homemade Christmas ornaments no matter what colors we do the house and tree in. That will always be a mainstay in our home.
I snapped a shot of the wrapping and a vase with some balls that I like to display. It is not a great shot – photography is not my expertise – but it does show how very festive even an unusual color can be!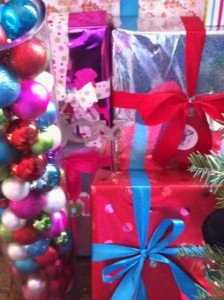 Back Camera
For my labels, I despise the way gift tags look, I  printed B&W photos of each person (several for kids who will get more than one gift), onto round labels and affixed them to the hang tags, then I added an inexpensive ornament to finish the package. You can see one of them that says "Joy" in this photo.
I like to take normal items for the season, like pine cones, or plastic icicles, and spray paint them in the same color scheme that I have going to keep the traditional nostalgia, but give it an updated fun twist.
Holidays can be a great way to make your home feel different with decorating and it doesn't have to be thousands of dollars to make it fantastic or unique!
Make Pretty Happen!